Read here which payment methods you can use to pay with us. All online payments are processed for us by Paypal. Paypal is a payment provider that takes care of the online payments of thousands of webshops nowadays. A secure and trusted online payment!
We accept most credit cards and. You will see a complete overview of the payment possibilities during the ordering process. Below is an overview of the most widely used online payment methods that we accept.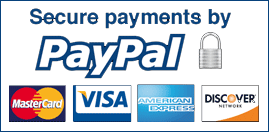 Ordering and Checkout: how does that work?
When you want to place an order in our webshop, add the desired number of plants to your shopping cart and click on the Checkout button. This will take you to the payment page.
Here, you can enter your information and if need be, enter a delivery address, if you would like to have your products delivered somewhere else. Dutch-Plants.com delivers everything throughout Europe. 
Next, select the desired payment method and click Continue. This will take you to a secure payment page from our provider Mollie or Paypal. You can pay here. When the payment has succeeded, you will be automatically returned to our webshop. Your purchase was successful! If you have indicated that you wanted this, you will receive an order confirmation by email. On the order confirmation, you will find an order number. If you wish to email us, or communicate in any other way, it is important to keep this number handy. Once your order is ready for transport, you will receive a confirmation of this as well. More information about shipping can be found on the shipping page.